"To pretend to know when you do not know is disease." Lao-Tzu
"Facts are the enemy of truth." Miguel Cervantes
"The truth is more important than the facts." Frank Lloyd Wright
Presentation 10: A Box of Thoughts Connecting the Dots -
Why American State Citizens Cannot be Represented -
Discerning Represent vs. Consent
Presentation 9: Bureau of Barbarians of Land Mismangement
Presentation 8: Why Private Property and Wages Cannot Be Taxed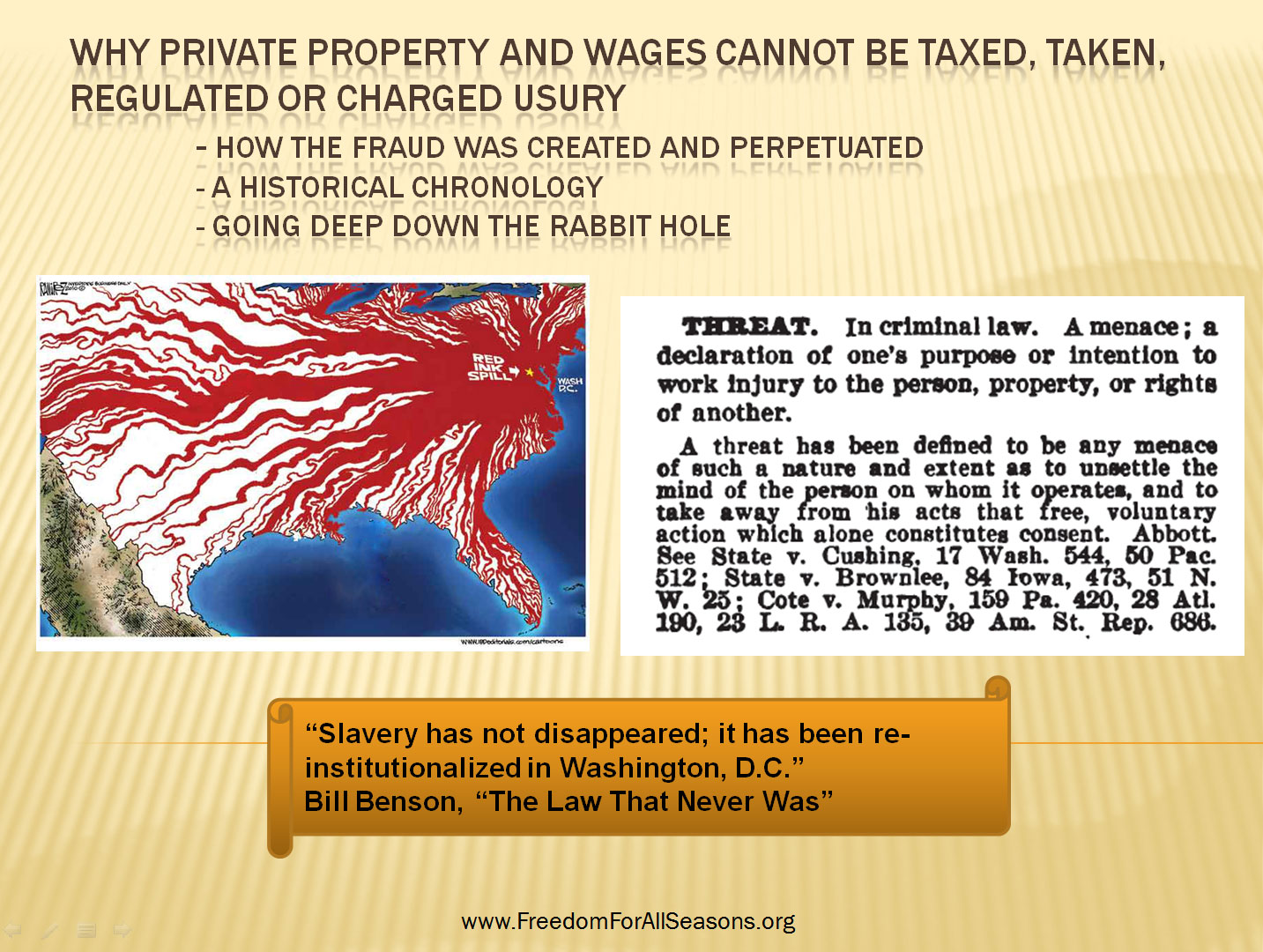 Why Private Property and Wages Cannot Be Taxed, Taken or Charged Usury -
107 slides blowing out tax taking myths created by the global to local cabal in America who want your wages and private property more than you do and think they know how to better use it.
Released December 2016
Why Private Property and Wages Cannot Be Taxed - (Adobe PDF)
Presentation 7: The Five Puzzle Pieces of Illegal Immigration &
How to Put Humpty Dumpty Back On the Wall Again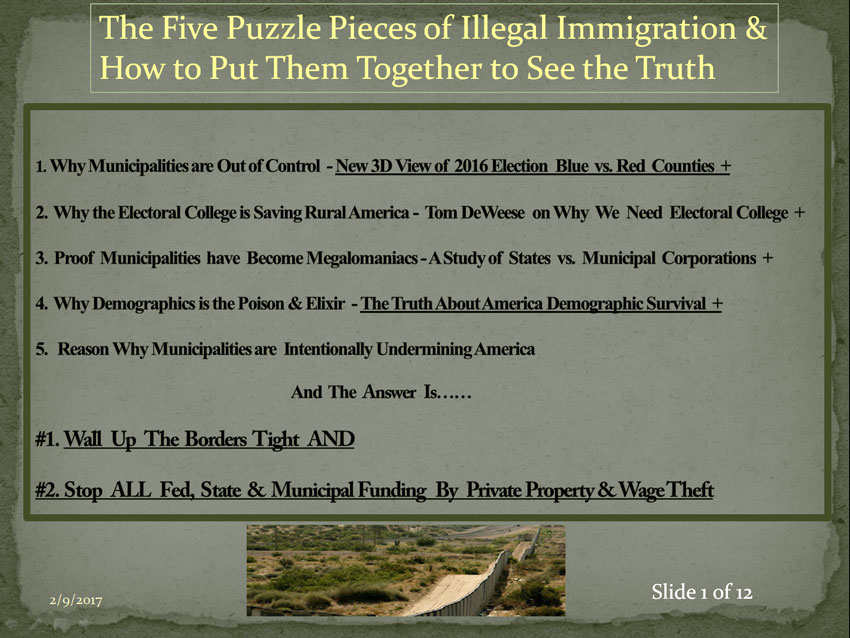 Released February 9, 2017
Presentation 6: America - A Republic Enslaved With Lies
Presentation 5: The History of Taking - Part 1
Presentation 4: The Dark Side of Municipal Corporations
Presentation 3: Natural Buffers -
Are The a Tempest in a Teapot or a Storm in a Glass of Water
Presentation 2: Licensing of Unalienable Rights - A Cycle of Lies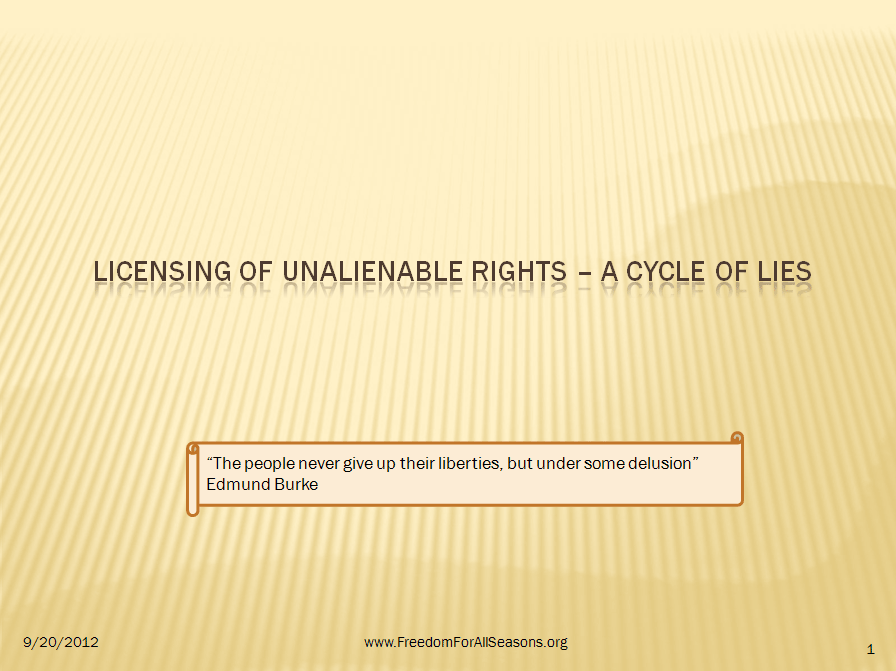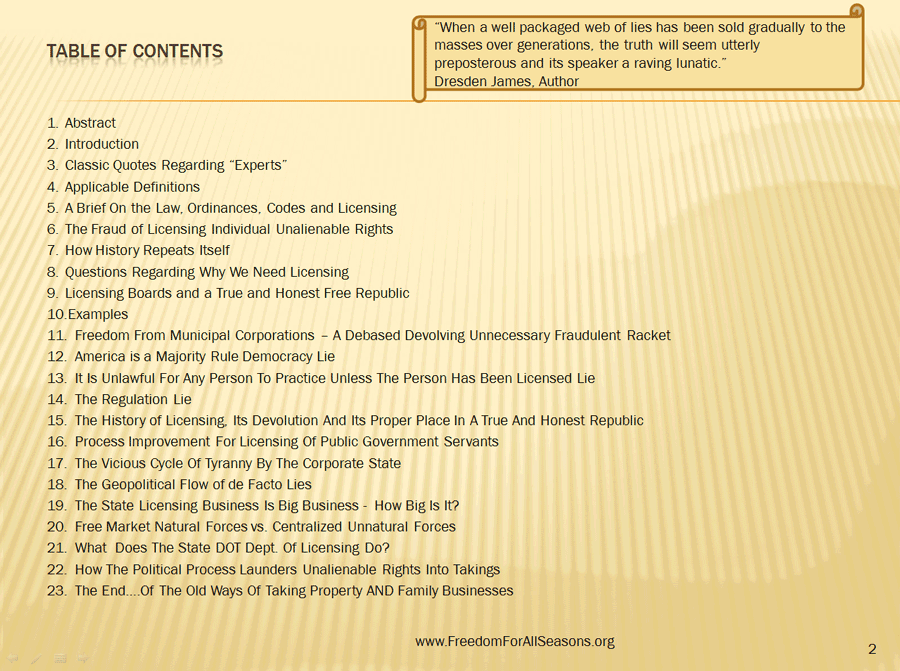 Download this 44 slide Presentation in Adobe PDF format
Note:
1. This presentation is Microsoft PowerPoint saved in compatibility mode for 1997 & on versions
2. RELEASED SEPTEMBER 20, 2012
3. 44 slides outlining how licensing is used by the municipal monarchy monopoly to take everything.
Presentation 1: The Brotherhood of Darkness - A Treatise on The Current System of Control in America